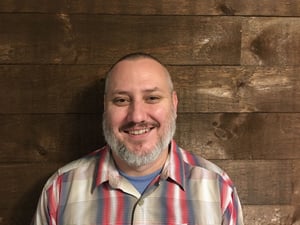 Brady Cotton is one of Celerium's Customer Success Managers. He works primarily with our CTI Router customers, but also helps with many other areas. He makes sure our customers have everything they need to make the most of their Celerium solutions, including clear and accurate documentation. You'll encounter him during onboarding if you purchase the CTI Router.
As a customer success manager, what does your average day look like?
I spend a lot of my day reaching out to clients, ensuring they have the access they need. I tend to follow up on all support tickets that my clients have as well as check in monthly to see how their usage has changed and if they have new likes/dislikes with the solution. I like to capture as much feedback about their usage to provide to our product team so we can continue to evolve our solution to meet client needs as well as exceed them in all use cases. Not every client uses the product the same and coming from an Ops background, I understand this well. Continually engaging with my clients, building a working relationship where they know I am here to help and I am a sounding board for them, helps us move the product in the right direction. This is most of my day. I also fill in the gaps with documentation updates for new releases, video creation for the product, and management of a couple internal systems.
What are you most excited about right now at Celerium?
I think the openness and direction we are going as a company. I have never worked for such an open-minded company from the owner down to all the individual employees all working to accomplish understanding a market that currently is very fluid. We are 100% cyber focused in all areas and that enables our clients to reap the benefits of a company that is highly oriented to progressing proper cyber awareness, hygiene, and knowledge.
The CTI Router (formerly Soltra) has gotten some major upgrades in the 3.4 release. What new feature or function do you think users will find the most useful?
There are many to discuss but the major area is the lossless support of STIX/TAXII 2.1. There are many in the marketplace that are doing translation for STIX 2.1 support but Soltra is not translating. Supporting STIX 2.1 also brings some changes to the UI as the there are many more objects to support in 2.1 vs. 1.1.1. The way we have designed the 2.1 Publish form I feel is excellent and will appeal to all users that use it. It is taking a very user experience focused approach and provides ease of use instead of having to know STIX to use it.
We know you're a big Star Wars fan. What Star Wars character would make the best Customer Success Manager and why?
You might think Obi-Wan Kenobi, but I would lean more to Anakin Skywalker (Pre-Darth Vader of course). Why – because of Anakin's passion, drive, and ability to see things from both sides of the equation. You must work for a company (Jedi Order) and be true to its requirements but you also must have the ability to see things from the viewpoint outside the company without losing focus (almost every single one of Anakin's missions in the Clone Wars). This balancing act is what makes a good CSM, creates relationships with clients, and in return helps the product you support as you know what needs to happen, not just internally but externally, to keep the product moving forward and keep clients excited about using the product. I also think the emotional side of Anakin is key. I would rather have someone I can reach out to and say, "Hey, this area is horrible and it costs me countless hours of work to use," and that person actually connect with what I am saying, be able to empathize, and actually take it back internally to the product team/development team, and get to a resolution.
When you're not working, how do you like to spend your time?
I spend a lot of time just being with my family. I love anything outdoors and just being outdoors. My most favorite hobby is fishing, be it in-shore saltwater, freshwater for bass (both small and large), panfish, and all the other varieties of freshwater from creeks to rivers. I love hiking in the mountains, but lately I have been spending most evenings at an MMA gym learning Jiu Jitsu and striking concepts. Good for the mind and body.
What's the last book or movie you recommended to someone?
Probably something Jason Bourne, Star Wars, or Lord of the Rings related. Pretty much the only things I watch and/or read over and over.
Cats or dogs?
Dogs all the way. I have an Australian Shepard and couldn't imagine a day without him.
Pineapple on pizza?
Pineapple on pizza? Gross! I am married to a New Yorker who taught me the finer things about pizza, and none of that contained pineapple.
The CTI Router is better than ever! With the 3.4 release, the product now provides lossless support for STIX and TAXII 2.1. Ready to make the most of your threat intelligence? Schedule a demo now!