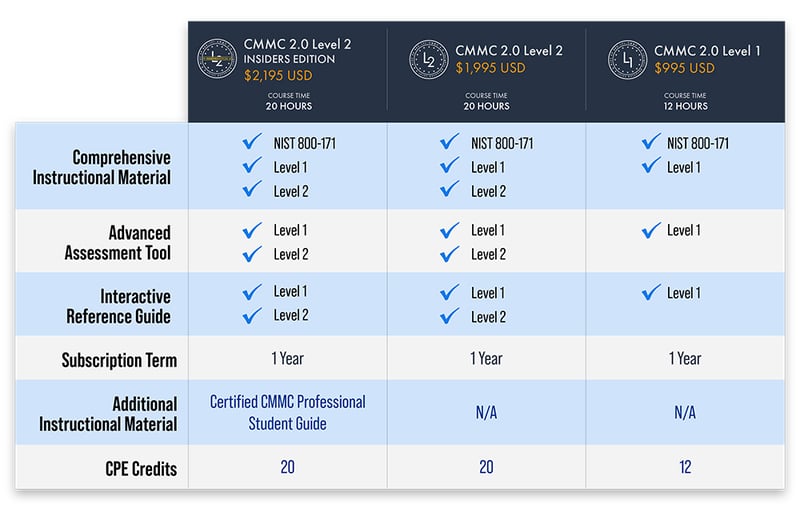 Our courses qualify for CPE (continuing professional education) credits that can be used to maintain high-profile security certifications including CISSP (ISC2), CISA & CRISC (ISACA), and FITSI certifications.
The CMMC is an important cybersecurity initiative for the entire defense industrial base, but where should a company start? How can companies know what to focus on? And what evidence is needed to support self-attestation or third-party assessment?
Our CMMC Insights courses provide comprehensive training material on the CMMC practices in a given level, and the courses feature insights based on our team's years of experience implementing compliance standards such as NIST 800-53 and NIST 800-171.
Benefits of the course include:
Comprehensive instructional material at the specific CMMC level
Coverage of all NIST SP 800-171 controls
Advanced self-assessment tool to track progress and provide an executive dashboard of CMMC readiness status
Advanced online reference guide
Celerium has deep knowledge of CMMC as an official Licensed Partner Publisher, Licensed Training Partner, and Registered Provider Organization with the CMMC Accreditation Body
Fully beta tested with a variety of DOD suppliers with a range of auditing/assessment experience
One-year access to the learning portal is provided, and we will provide updates on changes to CMMC as clarity is provided on items such as reciprocity. Don't wait - get started with this important training now!