As we look ahead to next year, we're excited to share the items in our first-half 2022 roadmap for Celerium's Cyber Threat Intelligence (CTI) Router.
Any company that creates, consumes, and/or shares cyber threat intelligence (CTI) needs a CTI router. Automating threat sharing can improve the effectiveness of your cyber threat intelligence and can help increase your team's overall speed in acting on CTI – which can be crucial when it comes to defending against ransomware or other cyberattacks.
The first-half 2022 roadmap for Celerium's CTI Router includes enhancements scheduled to be released in Q1 and Q2 of 2022. The new features will include:
CSV Ingest/Serializer, including compatibility with the Splunk CSV format
ATT&CK integration with our STIX 2.1 builders
Usage Reports
Two-Factor Authentication (2FA) using Google Authenticator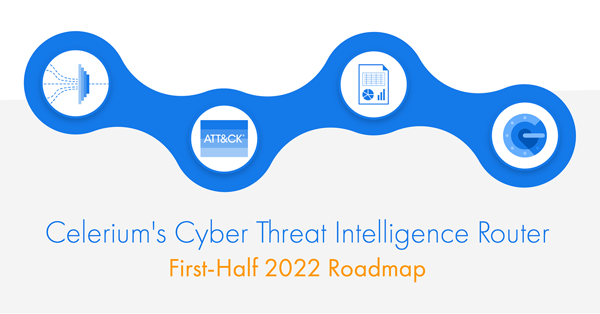 The cyber threat landscape continues to evolve, with threats becoming more pervasive and severe. In our mission to help companies fortify their cyber defense, we as a company remain flexible and agile to best address the evolving threat landscape.
Interested in learning more about Celerium's CTI Router? Click here for product information and to request a demo.