Time is of the essence for your organization to be assessed on their compliance with the CMMC standard. Celerium can help you.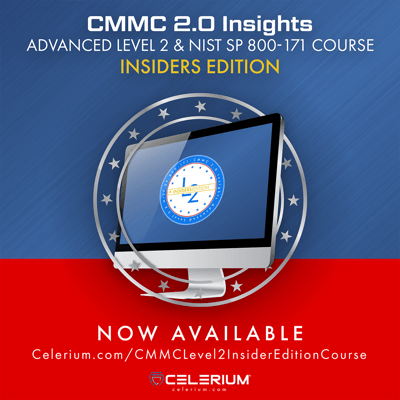 We just launched our newest CMMC Insights Course covering what government contractors need to do to achieve CMMC Level 2 compliance. The name of the course is CMMC Insights: Advanced Level 2 & NIST SP 800-171 Suppliers Course—Insiders Edition.
Our self-guided, online course on CMMC 2.0 and NIST SP 800-171 combined with our comprehensive guide, which covers the identical, foundational knowledge taught to CMMC Assessors, is all you need to prepare for CMMC or a high level 800-171 audit. This course provides extensive coverage of the CMMC Assessment Process, enabling organizations seeking certification (OSCs) to conduct their own, more comprehensive internal assessments.
Our course addresses the CMMC Assessment Process from an assessor's perspective. It includes planning details, evidence-collection methodologies, evaluation and validation criteria, and scoring practices. In our 713-page course document, you will find in-depth content on assessments. There, you will learn what you need to know to get your organization ready for an assessment. To verify that you are ready, you can take a quiz.
The professionals who take this course will be able to enhance their organization's readiness for CMMC Assessments or external NIST SP 800-171 Audits. The course will be helpful to all professionals who support CMMC such as: program managers and coordinators, implementers responsible for achieving compliance, employees preparing for audits and assessments, consultants seeking deeper knowledge, and consultants preparing clients for Joint Surveillance Program Assessments.
To be compliant with CMMC 2.0 & NIST SP 800-171 standards, take advantage of the in-depth content in our latest course.
You can purchase our CMMC Insights: Advanced Level 2 & NIST SP 800-171 Suppliers Course—Insiders Edition directly from our website here.